Basement Waterproofing Service Covering Plymouth, Devon & Cornwall
When engaging on a beneath ground level waterproofing project either on an existing basement conversion, as part of a new construction project or as an important necessity to provide protection from water penetration ingress, is a highly specialized installation using skilled tradesmen a key to it successfully functioning correctly.
FREE DAMP SURVEYS! SUBJECT TO TERMS & CONDITIONS. CALL US FOR MORE INFORMATION
Plymouth Damp Proofing (PDP) work together as a design team where and when required doing so. Our duties include surveying and specifying the best process and class of waterproofing protection required to suit the final use of the building. This can be quite complex and is an important part in the procedure so only qualified experienced technicians perform these duties that are CSSW surveyor registered. Our surveyors will focus on issues such as the ground conditions, the current water table, the surrounding topography, constructed and natural drainage systems and the assessment to identify any structural issues in the property that may result in water ingress into the building being current or in the future.
As experienced practiced surveyors they have a vast knowledge of the current regulations as contained in the Code of practice for the Waterproofing of underground structures, BS 8102 (2009) of which MUST BE abided to. Only when this detailed procedure is completed will a waterproofing system be identified.
Contemplation is also considered to use radon gas to certain basements that can be particularly vulnerable. 2009 revision to BS 8102 standards now require all basement-waterproofing systems to be considered using radon gas into account if required.
To this avail, Plymouth Damp Proofing (PDP) provide a radon gas test with an analysis service that runs alongside our Radon ADD Waterproofing System providing a combined waterproofing & radon control scheme purposely designed for basements.
See our Radon Page for further material.
Installation of the Waterproofing System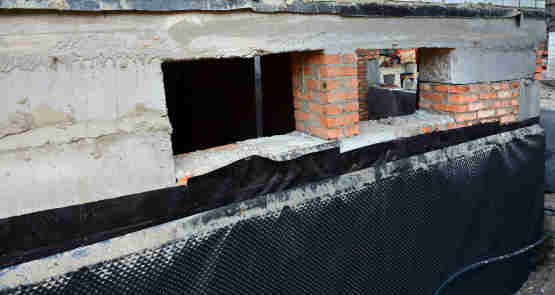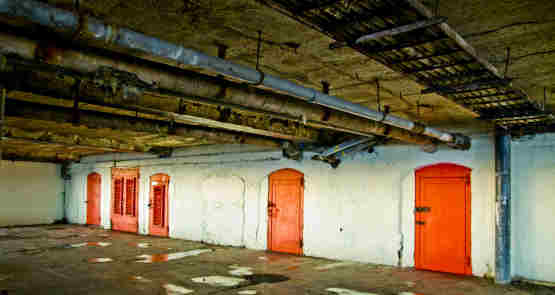 When you instruct Plymouth Damp Proofing (PDP) a contract manager who is usually the Surveyor too is appointed to project manage the complete installation of the waterproofing system providing you with a target program of the installation works and controlling our professional team of fitters along with our other specialists tradesmen involved to provide paramount communication and the speedy installation of all work to include all remedial works as required to a professional standard.
Our work force is extremely proficient and is required to maintain an ongoing training scheme so as to use the best product materials and methods required for top grade waterproofing specifications.
Basement waterproofing systems we provide are:
Sump & Pump Installation – A cavity drainage method
Cementitious Membrane Method – Multi system specialist render coats
Radon Aquis Double Defence Method – ADD Combined waterproofing system using Radon specifically designed for basement control
Cavity Drainage Membrane – Sophisticated drainage methods
Experienced, specialized & complying to all current regulations
Here at Plymouth Damp Proofing (PDP) we are dedicated in providing a service to our clients to include only the very best methods and are proud in our reputation in offering only high quality solutions to problems, producing high standards of workmanship along with a clean customer care record to ensure our customers that their properties are completely safeguarded for a long term period. We can provide this by:
Following the BS 8102:2009 Code of Practice for the protection of below ground structures against water ingress from the ground above
We are in possession of Professional Indemnity Insurance
Follow the (NHBC) National House Build Council requirements on new build properties
Only have CSSW qualified Surveyors for Structural Waterproofing
Issue a ten-year guarantee and a twenty year guarantee for New Home Warranty Schemes but are subject to maintenance conditions
We are currently members of the Property Care Association Register of Waterproofing Design Specialists
We provide an after care installation service to supply maintenance as required
We work with Structural Engineers, Architects, main and private developers in every aspect for the design and build method for new build dwellings, commercial properties and older domestic properties
Please feel free to contact us for further help, support and advice
If you would like to talk to one of our team to get further advice and information regarding waterproofing system designs and installations please don't hesitate to contact us now and we will be happy to have a chat and discuss your damp proofing requirements.
Basement Waterproofing BS8102: 2009
BS 8102:2009 is the British Standards Institute Code of Practice for the protection of below ground structures against water ingress from the ground above.
It is there to provide recommendations & guidance for methods to prevent the water ingress from the surrounding ground into a structure that is below the ground level. It applies to all structures that are below ground level and those situated on sloping sites.
Categories & Grades of Waterproofing
The BS8102: 2009 regulations advise the kinds of waterproofing available and sanction the performance grade to be accomplished as follows:
Type A – Barrier protection or better known as tanking. This system provides a damp proof barrier to water ingress. It is usually applied to the inner or outer surfaces of the building. This takes the form of a DPM membrane or it can be a render applied to the substrate.
Type B – Structurally Integral defense. The building is constructed as a watertight construction that requires no further protection. The Integral method relies on making the concrete totally watertight using cementitious systems.
Type C – Drained Protection from Water Penetration through voids and cavities correctly removed. These methods include a drained cavity inside the basement structure so as to eliminate the water before it can pressurize the internal dry area with occasionally the requirement for a sump & pump method.
Our services we supply in short:
Damp proofing advice & support
Damp Surveys
Basement waterproofing
Rising damp treatments
Condensation treatments & control
Woodworm Treatment
Wet rot & dry rot treatments
Remember your property is at risk if you let damp set in and do nothing about it!
Please feel free to contact us for further advice
If you are concerned about any of the above issues affecting your property, please contact us and a member of our team will be happy to help, as we are Specialists in Property Surveying.